Fears of a recession may be in the air. The Fed may be taking a more tolerant stand on inflation if only to ensure that it doesn't trigger it off. And inflation may be driving up costs on a host of things including essentials like food. But guess what? There are still some markets where demand remains extremely strong. And more importantly, remains in excess of supply. Which means there is strong pricing.
I know. You may be thinking, oh yeah — that's what we were saying about the housing market a couple of months back. And see how supply constraints and affordability considerations (that pushed many out of the market) eventually created a situation that some are calling a bubble. While I don't entirely agree with that view and consider the housing market still attractive, I'm talking about another industry here. And that is Paper.
Paper producers are seeing increased raw material costs (especially pulp) that they are passing on by raising prices. But they aren't experiencing production/labor constraints.
And because of its use, mainly as packaging material, across a large cross-section of industries, demand for paper is broadly related to population growth and increased industrialization. So it's easy to understand why countries like China and India are seeing growing demand.
But those aren't the only considerations. Western markets are more mature in paper consumption, especially in the food, hygiene and other personal use markets. And innovative production techniques are expanding paper's use cases. So demand in these markets is strong and relatively inelastic.
Additionally, the pandemic has been a big boon for this industry, because not only has it increased home consumption of tissue and other hygiene products, but it has led to a permanent change in the way we buy things. So most of us are today increasingly comfortable with online purchasing, which of course drives up demand for paper containers, boxes and so forth to facilitate transport of these items.
And while plastic containers continue to be used, people are much better informed these days about related environmental concerns. Paper packaging seems like a more benign option, even though its production does generate chemical waste. At least timber production can be managed to minimize the environmental impact.
So although industry growth is related to GDP growth, right at this time, there are multiple other drivers that should continue to fuel demand.        
All that being said, it's worth keeping in mind that digitizing is leading to a reduction in paper usage in schools and offices, a trend that we may expect to continue and even broaden. So if you're investing in paper, better minimize exposure to this segment.
Here are a few stocks worth considering-
Clearwater Paper CLW
Clearwater Paper Corporation manufactures and supplies bleached paperboards, and consumer and parent roll tissues in the U.S. and internationally. Its Pulp and Paperboard segment produces various packaging materials for packaging converters, folding carton converters, merchants and commercial printers. Its Consumer Products segment offers tissues for at-home and away-from home consumption through retailers and wholesale distributors, including grocery, club, mass merchants, and discount stores.
Clearwater shares carry a Zacks Rank #1 (Strong Buy). It topped December quarter estimates by 36.7%. And in the last 60 days, its 2022 earnings estimate has jumped 71 cents (30.5%). The lone analyst providing estimates expects earnings to increase 195.2% this year. The shares trade at 10.6X earnings, which is close to their lowest point over the past year and well below the S&P's 20.0X. The industry average is however lower at 7.2X.
Mercer International, Inc. MERC
Mercer International owns and operates a diverse pulp and paper business in the southern German states of Saxony and Thuringia. Mercer's two operating segments are Pulp and Wood Products. It operates its pulp business through subsidiaries and targets tissue, specialty paper, and printing and writing paper, and other manufacturers. Its lumber products are sold through distributors, construction firms, secondary manufacturers, retail yards and home centers. Mercer also generates and sells green energy produced from a biomass cogeneration power plant to third party utilities.
Mercer beat the December quarter estimate by a more sedate 16.7%. And just like Clearwater, its estimates have moved up significantly in the last 60 days. In fact, the Zacks Consensus is now at $2.75, which is a $1.22 (79.7%) increase from 60 days ago. The shares carry a Zacks Rank #1. The shares trade at 5.9X earnings, close to their lowest point over the past year, and below both the broader industry and the S&P 500.
Veritiv VRTV
Veritiv Corp. offers business-to-business, value-added packaging products in North America. Veritiv provides packaging, print and print management, publishing, supply chain facility and logistics solutions that span the entire lifecycle of core business operations. The company's customers vary across a number of industries, including manufacturing, healthcare, retail and more.
The lone analyst providing estimates sees 63.2% earnings growth this year and has taken his 2022 estimate up from $9.75 to $14.0 (43.6%) in the last 60 days. In the last quarter, it topped estimates by 38.0%. The shares carry a Zacks Rank #1. The shares trade at 9.4X earnings, which is close to their lowest point over the past year and compares favorably with the S&P 500.   
Sylvamo SLVM
Sylvamo Corp. is a paper company with operations in Europe, Latin America and North America. It primarily targets the education, communication and entertainment segments. Other than various paper products (freesheet; pulp, aseptic and liquid packaging board and coated unbleached kraft papers), it sells hardwood pulp, including bleached hardwood kraft and bleached eucalyptus kraft; bleached softwood kraft; and bleached chemi-thermomechanical pulp.
The shares carry a Zacks Rank #2 (Buy). They topped the Zacks Consensus estimate by 28.6% in the last quarter and analysts have raised their 2022 estimate by 65 cents (9.3%) in the last 60 days. At 5.0X earnings, the shares are trading below their median value in the last 6 months (when they started trading).
One-Month Price Movement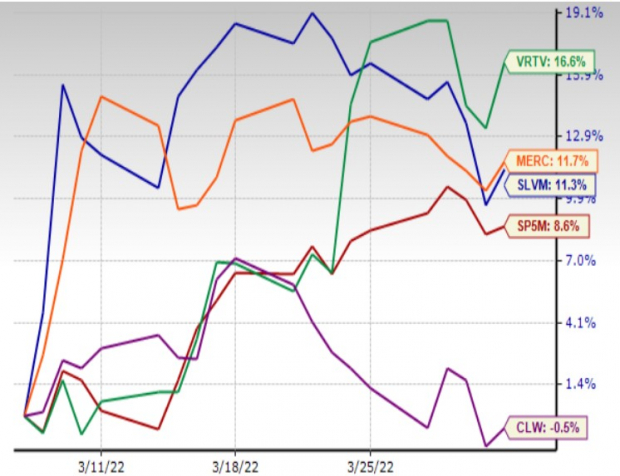 Image Source: Zacks Investment Research
Just Released: Zacks Top 10 Stocks for 2022
In addition to the investment ideas discussed above, would you like to know about our 10 top buy-and-hold tickers for the entirety of 2022?
Last year's 2021 Zacks Top 10 Stocks portfolio returned gains as high as +147.7%. Now a brand-new portfolio has been handpicked from over 4,000 companies covered by the Zacks Rank. Don't miss your chance to get in on these long-term buys
Access Zacks Top 10 Stocks for 2022 today >>
Clearwater Paper Corporation (CLW): Free Stock Analysis Report
Mercer International Inc. (MERC): Free Stock Analysis Report
Veritiv Corporation (VRTV): Free Stock Analysis Report
Sylvamo Corporation (SLVM): Free Stock Analysis Report
To read this article on Zacks.com click here.
The views and opinions expressed herein are the views and opinions of the author and do not necessarily reflect those of Nasdaq, Inc.
https://www.nasdaq.com/articles/these-4-paper-stocks-are-going-strong