By Goran Damchevski
This article was first published on Simply Wall St News
Some say "Controversy creates opportunity", and in moments like these, it is important for investors to do our best to distinguish a temporary situation from a permanent effect. That is why, we will review the key fundamentals of Spotify Technology S.A. (NYSE:SPOT), including growth, intrinsic value and risks.
Check out our latest analysis for Spotify Technology
Let's start with the bad news, the share price is down 43% in the last 90 days. That's disappointing when you consider the market returned 9.7%. However, by digging a bit deeper, we can see that young growth stocks have been also hammered in this period, so it is not completely clear, to what extent the drop is attributable to market moves as opposed to company events.
Now let's back up, and review what Spotify is all about.
Company & Risks Overview
As a company, they provide people access to their audio streaming service, which primarily consists of music and podcasts. The company has 172m subscribers and 381m monthly active users, as well as more than 1 Billion installations from the Google Play Store – They have managed to expand geographically to 184 markets and are now pushing to capture as many subscribers as possible.
Which leads us to the 3 main challenges – acquisition, conversion and retention.
SaaS companies are known to struggle with these key areas. First, they must market their product in order to acquire new users (for example, Spotify spent close to EUR800m in sales and marketing expenses), or alternatively, they can grow by acquisitions of other companies/brands. In 2021, Spotify acquired both Podz, Inc. and Betty Labs Incorporated for EUR45m and EUR57m respectively. As most people know, they also acquired the Joe Rogan Experience in 2020 as an exclusive presence in their platform.
The other key area is the conversion from free to paid subscribers.
This takes both time and service development, which Spotify is intensely working on. They are developing their digital front-end experience, music library, as well as the algorithm behind the music suggestions. This last point is subtle but important – Clients use a service like this for more than just having a platform where they can listen to music, they also use it to help them choose the best music with minimal effort. This is a key part of what makes a software like this valuable and distinguishes it from older approaches. The only question is, what level of quality will Spotify be able to produce?
The last key area is the retention.
Users sign up for various reasons, including short term curiosity. However, if users have a bad experience, they will uninstall the app, and it will be arguably much more expensive for Spotify to bring back someone that has once abandoned the platform. One of the rare factors that work for user retention is the quality of the service. Savvy marketing approaches are short-lived, as investors that are familiar with Contextlogic (NASDAQ:WISH), will know the risks of burning cash for short-term user onboarding (the company spent millions on marketing, but users slowly abandoned the platform despite incentives).
The other obstacles to retention are competition and new trends. This is an ongoing struggle between platforms, as they tend to develop similar features and the value of features is equalized unless a company keeps innovating.
Now let's put this all together.
Spotify is a young growth company, that needs both to develop its service and expand to new users.
Does the company have the means to do that?
The answer is a very likely "yes". In fact, Spotify seems to have more cash than they know how to spend. Looking at the balance sheet, we can see that the company has EUR3.1b in cash reserves. This gives investors assurance that the company has enough funds to finance expansion, as well as be a serious competitor to the technology large cap stocks.
Income & Growth
When analyzing any business, we are interested in the ability of that business to create future cash flows for investors. That is why we start at the top line – revenues, and work down to the bottom line – profits.
In our case, we care more about cash flows than profits, as that is what investors can get as a return, both in dividends and stock price appreciation via buybacks.
So, how does Spotify make revenues?
Spotify has 2 tiers of service, the ad-based free tier, and the subscription based premium tier. In the last 9 months, the premium tier contributed with a 29% gross profit margin, while the free tier had a 9% gross profit margin. It is clear that, the paid subscriptions are more valuable to the company, and that is what they are striving to maximize.
After revenues, a company incurs costs. For Spotify, one of the main costs, are healthy royalties which they pay to content creators and license owners (page 31). I stress healthy, as artists can use the funds to re-invest and create more music/podcast content. For the last 12 months, the costs of revenue, amounted to some 73% of revenues, leaving Spotify with a gross margin of 27%. This is what the company has left over to spend on development and, as a tech stock, that is more than enough to finance future projects.
For Spotify, at this stage, the market is probably more focussed on revenue and revenue growth. Generally speaking, companies without profits are expected to grow revenue every year, and at a good clip.
Spotify Technology grew its revenue by 21% over the last year. This is a good growth rate and attributable to premium monthly active user growth, which was 19% for the last 9 months – ended in September.
The value of a stock lies in the future cash flows, which is why we need some way to estimate and model them. One approach is to average out what analysts estimate the future fundamentals to be.
This is what you see in the graph below – a link between past performance, and how analysts estimate the future fundamentals.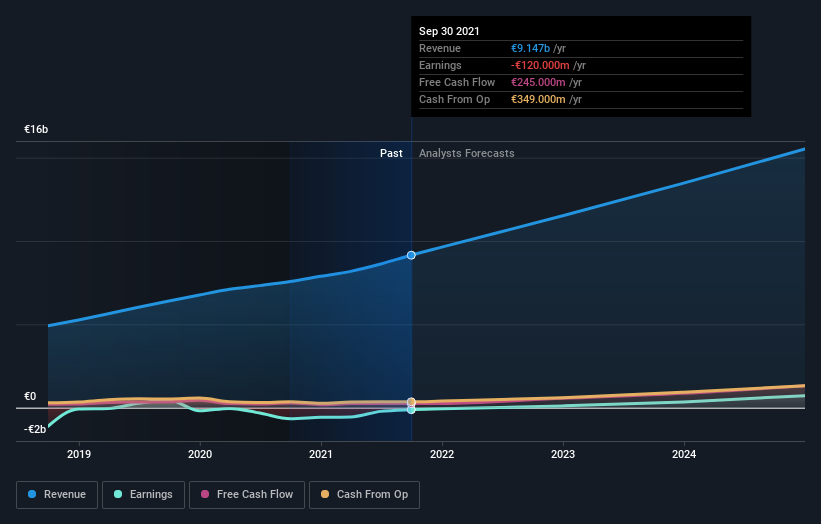 For Spotify, analysts estimate revenues of EUR15b by the end of 2024, as well as free cash flows of EUR1.3b for the same period. This is understandable as the company still needs to grow revenues, and re-invest into the business, which will keep the profit margin down for some time.
In order to value a company, we need to take our model of future cash flows, and see what they are worth today. Note that valuation models differ widely between analysts and approaches, so look at this as a very general perspective on the business.
Valuation
Given what we mentioned before, both on the fundamentals and qualitative risks, we can build a model that attempts to estimate what the business and stock is actually worth.
To view the details on our Spotify model, click HERE.
We first take the estimates of cash flows for the next 10 years, and see how much they are worth today (we discount them at 6.2% annually). The result is EUR17b. Note, that analysts are usually bullish on stocks, and may tend to estimate what they think of as best case scenarios.
After that, we also estimate what the whole business will be worth along its lifetime – and discount it to get the value of the business today. We get a present value of the business of EUR58b today.
Finally, we sum the value of cash flows + the value of the business, and we get an intrinsic value of EUR75.5b.
In EUR terms, that is EUR 394 per share.
In USD terms, that is US$ 440 per share.
Before today's market open, the stock closed at US$ 172.9 per share, which means that our model estimates the stock to be some 60% undervalued.
Valuation is not a science, and people disagree on the value of an asset all the time!
Conclusion
Spotify is currently trading at a market low, for some investors this can be a chance to dig deeper into the business and see if there is a possible upside opportunity in the stock. As a young growth company, the stock is high risk, and besides a proper valuation, investors should also think about allocation in their portfolio as well as their investment time horizon.
We see that the company is growing at a double-digit rate, has a healthy cash balance, and the fundamentals indicate that Spotify will be profitable in the future. This indicates that there are some long-term qualities in the stock.
The current price changes seem to be resulting from a mix of market movements, marginal investor disassociation from the stock, and a possible short-term investor mood swing. Which is why, the fundamentals matter for the long term future of a business.
Alternatively, for those who like to find behavioral investments, this free list of growing companies with recent insider purchasing, could be just the ticket.
Please note, the market returns quoted in this article reflect the market weighted average returns of stocks that currently trade on US exchanges.
Have feedback on this article? Concerned about the content? Get in touch with us directly. Alternatively, email [email protected]
Simply Wall St analyst Goran Damchevski and Simply Wall St have no position in any of the companies mentioned. This article is general in nature. We provide commentary based on historical data and analyst forecasts only using an unbiased methodology and our articles are not intended to be financial advice. It does not constitute a recommendation to buy or sell any stock and does not take account of your objectives, or your financial situation. We aim to bring you long-term focused analysis driven by fundamental data. Note that our analysis may not factor in the latest price-sensitive company announcements or qualitative material.
The views and opinions expressed herein are the views and opinions of the author and do not necessarily reflect those of Nasdaq, Inc.
https://www.nasdaq.com/articles/spotify-technology-nyse%3Aspot-when-in-doubt-review-the-fundamentals