Good morning, and welcome to the Indy Gaming newsletter, a weekly look at gaming matters nationally and internationally and how the events tie back to Nevada.
If a colleague or associate emailed this newsletter to you, please click here to sign up and receive your own copy of Indy Gaming in your inbox. – Howard Stutz
---
In the three days immediately after Super Bowl LVI's match-up was set, Station Casinos Vice President of Race and Sports Jason McCormick said the company's sportsbooks saw a 20 percent increase in wagering on the NFL championship game compared to a year ago.
"As soon as we put up the line, we saw a lot of action," McCormick said of Sunday's game between the Los Angeles Rams and the Cincinnati Bengals. "We're getting ourselves prepped and ready for some monster wagering this weekend."
McCormick's counterpart in the Las Vegas neighborhood casino business, Boyd Gaming Vice President of Race and Sports Operations Bob Succi, had a similar observation.
"I am expecting to see big numbers in Vegas," Succi said. "I really feel this year will be a monster year."
Whether Nevada's sportsbooks break the record for Super Bowl wagering (set in 2018 at more than $158.5 million) won't be determined by just the pre-game large wagers leading up to Sunday's 3:30 pm kickoff in SoFi Stadium in Los Angeles.
McCormick and Succi agreed that in-play wagering – bets placed on mobile wagering devices while a game is in progress – will influence the final Super Bowl wagering totals.
"The wagers don't stop when the game starts," McCormick said. "You continue to see the handle grow as the game goes on. The more competitive the game, the bigger the handle."
Succi said mobile sports betting has fundamentally changed the business for operators and customers. Prior to widespread adoption of the technology, patrons could only place their Super Bowl wagers before the game and at halftime.
"You can bet throughout the entire game right into the fourth quarter. I think people have gotten used to that type of betting," Succi said. "It's a whole different realm that involves a whole new segment of bettors. So I think those are the bigger driving factors."
Nevada sportsbooks saw a record $8.1 billion in wagers in 2021, easily snapping 2018's single-year record of $5.3 billion in sports bets. Mobile sports wagers accounted for 64.6 percent of the 2021 handle.
Gaming Control Board Senior Research Analyst Michael Lawton said the influence of mobile sports betting and in-play wagering was evident in the last quarter of 2021, when Nevada sportsbooks took in more than $1 billion in wagers in each of the quarter's three months. Mobile sports betting accounted for 70.4 percent of all those bets.
Lawton said the ability to bet during a game allows sportsbook operators to utilize in-play wagering outside of football, including basketball, hockey and baseball. Sports betting volume in Nevada since 2010 has increased by $5.4 billion, or 195 percent, which Lawton attributes to mobile sports wagering.
"Operators have been fast to offer wagers on a wider variety of events which include in-play wagering," Lawton said. "The bottom line is that a computer-savvy public along with a sports-passionate culture have embraced sports wagering on their mobile devices."
The interest in mobile wagering doesn't mean the six-figure and seven-figure Super Bowl wagers don't influence the bottom lines. However, the nationwide growth of sports betting often means Strip resorts don't always see those large wagers.
For example, prolific sports gambler Jim McIngvale of Houston – referred to in the betting community as "Mattress Mack" – placed a winning $3.46 million wager on the Tampa Bay Buccaneers in last year's Super Bowl through a mobile wagering app operated by DraftKings in Colorado.
This year, McIngvale is betting $4.5 million on the underdog Bengals and the money line in a wager made last week in Louisiana with Caesars Sportsbook.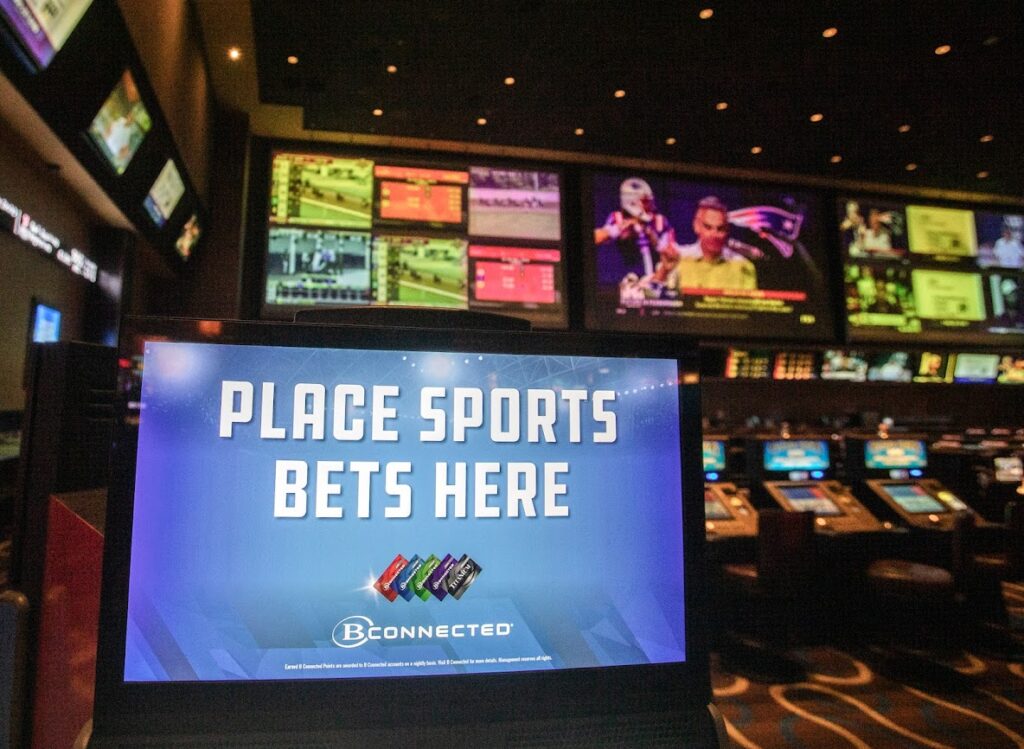 $175 million predicted in Nevada Super Bowl bets
Sports betting is legal and regulated in 30 states – 10 more states than in 2021 – and Washington D.C. Three more states, including the Bengals' home state of Ohio, will launch legal sports betting later this year. The Rams' home state of California could have as many as four sports betting legalization referendums on the November ballot.
According to PlayUSA Network, which tracks sports betting results, analysts predict $1 billion in wagers will be placed legally on the Super Bowl by this weekend. The figure would roughly double last year's estimated Super Bowl handle of more than $500 million.
Dustin Gouker, lead analyst for PlayUSA, said "$1 billion in legal wagering on a single game would be an impressive milestone" for the sports betting industry. PlayUSA also projected Nevada would produce the nation's largest Super Bowl handle with $175 million.
Nevada has fallen short of breaking 2018's record wagering total in each of the last four years, although 2020 produced nearly $154.7 million in Super Bowl bets, primarily because the game included the San Francisco 49ers, a popular team in Northern Nevada. Last year's total of $136 million was due to pandemic-related capacity restrictions that reduced casino crowds.
Nevada sports betting operators are not concerned about competition from other states.
Advertising by sports betting operators and discussions during game telecasts about point spreads, "has made sports betting more socially acceptable," McCormick said.
Many Nevada sportsbook operators operate in multiple states, such as Caesars Sportsbook and BetMGM. Boyd Gaming owns 5 percent of FanDuel, which currently operates sports betting at the company's regional casinos outside of Nevada.
"All the new states are introducing a whole lot of people to sports betting," Succi said. "That's good for Nevada."
The American Gaming Association released research Tuesday showing that an estimated 31.4 million adults will wager both legally and illegally on the Super Bowl, up 35 percent from 2021. The Washington D.C.-based trade association said the 10 states that added sports betting in the past year gave 45 million more Americans a legal option for sports betting in their home state.
The AGA said 76 percent of those planning to wager on the game want to do it through a legal operator.
"Americans have never been more interested in legal sports wagering," AGA CEO Bill Miller said in a statement. "The growth of legal options across the country not only protects fans and the integrity of games and bets, but also puts illegal operators on notice that their time is limited."
---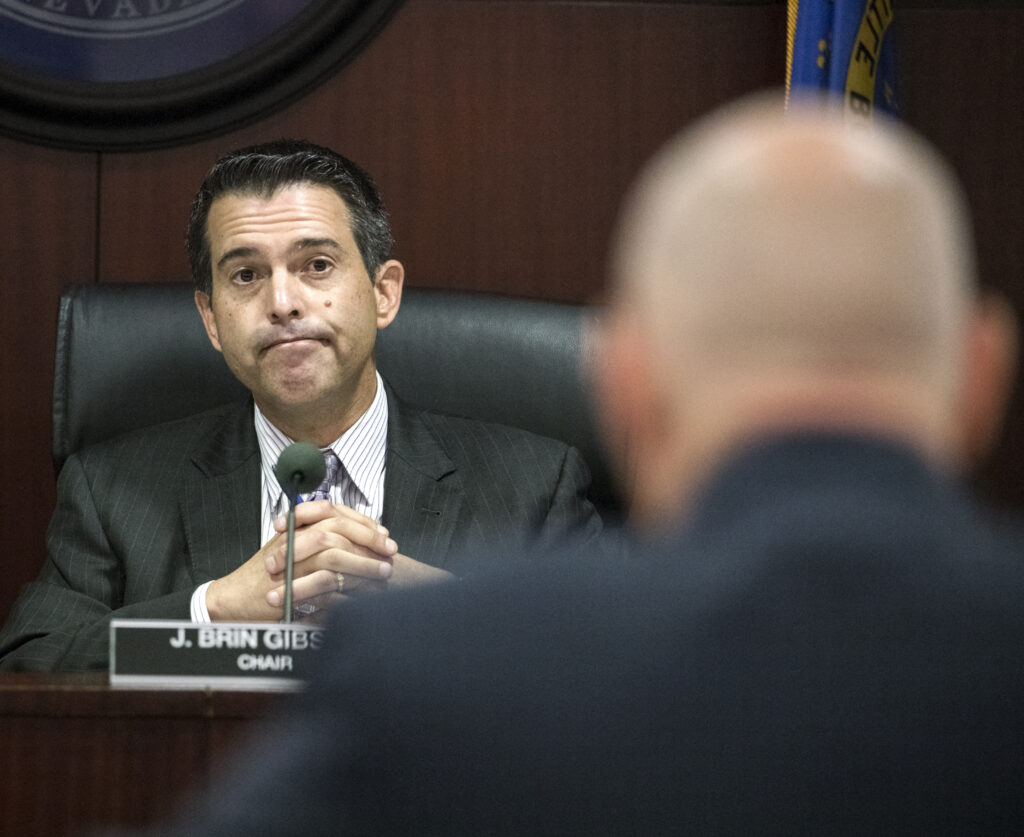 Allegations against Barstool founder could limit Penn's efforts in Nevada
Regional casino giant Penn National Gaming is not done eyeing Las Vegas.
But one overhang – sexual harassment allegations raised against Dave Portnoy, the founder of Penn's sports betting arm Barstool Sports – could be a hindrance.
In November, when online publication Insider.com published sexual misconduct charges against Portnoy on the same day Penn National announced third-quarter earnings, Nevada Gaming Control Board Chairman Brin Gibson requested information from the company's compliance committee about the misconduct claims.
Portnoy has become a national figure through Barstool, which claims the following of more than 66 million viewers to its sports-oriented online channels and content. His philanthropy during the pandemic raised more than $41.7 million to help small businesses throughout the U.S.
Last week, the day before Penn National announced its fourth quarter and year-end results, Insider.com published a second article in which multiple women accused Portnoy of "violent and humiliating" sexual encounters.
Portnoy vehemently denied the initial allegations in November on his various social media platforms. On Monday, his attorneys filed a defamation lawsuit against Insider.com in federal court in Boston in response to the second article.
During a licensing hearing in December for Penn National Chief Financial Officer Felicia Hendrix, Gibson expressed his concern with Barstool and Portnoy, saying he expected the company would provide information "on the vetting of those issues."
Gibson confirmed he received the requested information from Penn, but what the company provided was confidential. The material also came before the second article dropped.
Penn National CEO Jay Snowden addressed the Portnoy matter at the outset of the company's earnings call last week. In November, the initial article caused Penn's stock price to tumble more than 25 percent and he wanted to halt any further price deterioration.
Snowden reminded analysts to let the matter play out, and added that he wanted to keep the call "focused on Penn and our earnings release, and our exciting and unique future outlook.
Gibson understands gaming regulators are walking a fine line since Barstool is not part of Penn's gaming license in Nevada. However, the company, which has 43 casinos in 20 states, is a licensee.
Penn manages the Tropicana Las Vegas and will depart the south Strip resort once Bally's Corp. closes its acquisition of the operations later this year. That will leave Penn with ownership of just the operations of M Resort in Henderson and two small casinos in Jackpot, which is near Nevada's border with Idaho.
Penn has sports betting contracts with Caesars Entertainment-owned William Hill U.S. for its Nevada casinos, but might consider bringing Barstool to the state if it were to land a larger presence on the Strip.
Penn spent $136 million in January 2020 to acquire 36 percent of Barstool and has used the brand to launch sports betting at its casinos in more than a dozen states. Snowden said last week that Penn would exercise its option in 2023 and acquire the remaining shares of Barstool.
Wells Fargo Securities gaming analyst Daniel Politzer told investors the acquisition could cost Penn roughly $387 million.
Deutsche Bank gaming analyst Carlo Santarelli, a target of Portnoy on social media when he took a negative view in his research reports toward Barstool in 2020, suggested Penn would "restructure the roles" of some of Barstool's personalities "to perhaps, minimize their influence in the eyes of regulators. It appears a lot is left to be determined."
As for Las Vegas, Snowden said Penn "would probably take a look" at a Strip resort "for the right price and the right location" and, "at a minimum, kick the tires."
Without identifying the properties, Snowden mentioned three recent Las Vegas hotel-casino sales in the past year he thought were overpriced.
Penn confirmed previously it was bidding for the Cosmopolitan of Las Vegas, whose operations are being sold to MGM Resorts International in a transaction that has an overall value of $5.7 billion. The company was reportedly looking at The Mirage, which is being acquired by Hard Rock International for more than $1 billion.
"We're not going to take something that we can't get a return on," Snowden said. "You should not expect Penn to be a leading bidder if it's an irrational competitive bid process."
---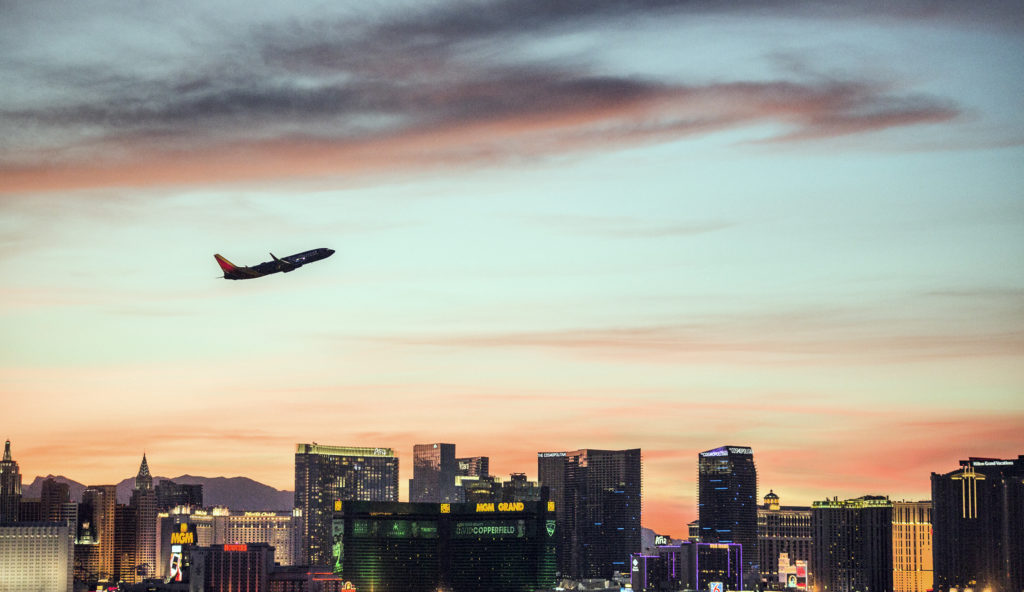 Two of Reid Airport's busiest airline carriers announce a $2.9 billion merger
Two of the top three airlines — accounting for more than half of the passenger traffic to Las Vegas — announced plans to merge on Monday, which would create the nation's fifth-largest air carrier.
The combined airline created by the planned $2.9 billion acquisition of Spirit Airlines by Frontier Airlines would still trail Southwest Airlines, which is the top air carrier serving Harry Reid International Airport.
A spokesman for the airport declined to comment on the planned merger, saying it was too early to determine what the fallout from the merger might entail.
Reid Airport saw 39.7 million passengers during 2021, which was still nearly 23 percent below 2019's pre-pandemic figure of 51.5 million. The three airlines – Southwest, Frontier and Spirit – accounted for roughly 57 percent of the airport's passengers in 2021.
Denver-based Frontier was the airport's No. 3 airline with just under 4 million passengers in 2021. Miami-based Spirit was the No. 2 carrier, with more than 4.7 million passengers.
However, the airlines' combined 8.7 million passengers still trailed Southwest, which reported just under 14 million passengers on flights to and from Reid in 2021.
In February, Frontier is scheduled to average 84 daily flights at Reid. Spirit is scheduled to average 110 daily flights at the airport.
Frontier and Spirit cross over several markets to and from Las Vegas, including Dallas-Fort Worth, Orange County and San Diego.
---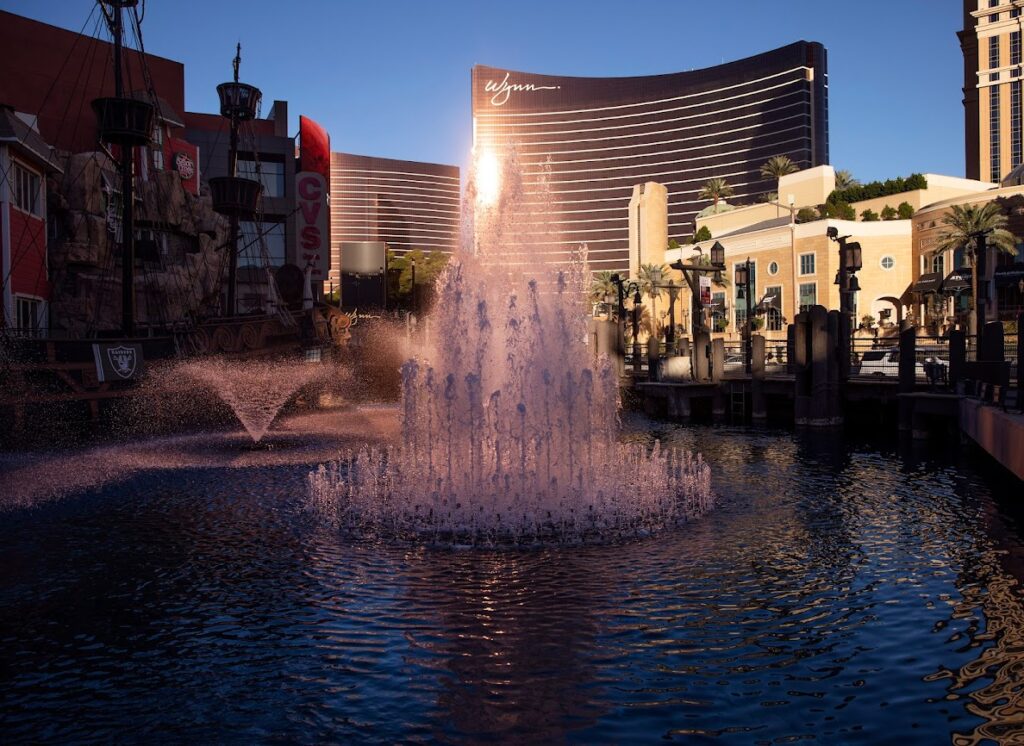 Gaming regulators unite Arizona gambler with a $229,368 jackpot he left behind
Arizona resident Robert Taylor went home from his early January trip to the Las Vegas Strip empty handed. He returned last weekend to collect a $229,368 slot machine jackpot he didn't know he had won.
A communications error on a progressive slot machine at Treasure Island on Jan. 8 prevented both the customer and casino personnel from realizing the jackpot had been hit. Taylor's trip ended without knowing he was a winner.
The casino notified the Gaming Control Board, which conducted an extensive review of the slot machine – which is themed after the movie "The Mask" – and the communications technology used. Gaming agents were able to verify the jackpot and confirm the total payout. However, the player and his whereabouts were unknown to the casino.
Multiple attempts to identify the patron by Treasure Island were unsuccessful.
The control board initiated an investigation to obtain the gaming patron's identity.
Multiple agents from the enforcement division reviewed hours of surveillance footage from Treasure Island and other gaming properties and conducted numerous witness interviews.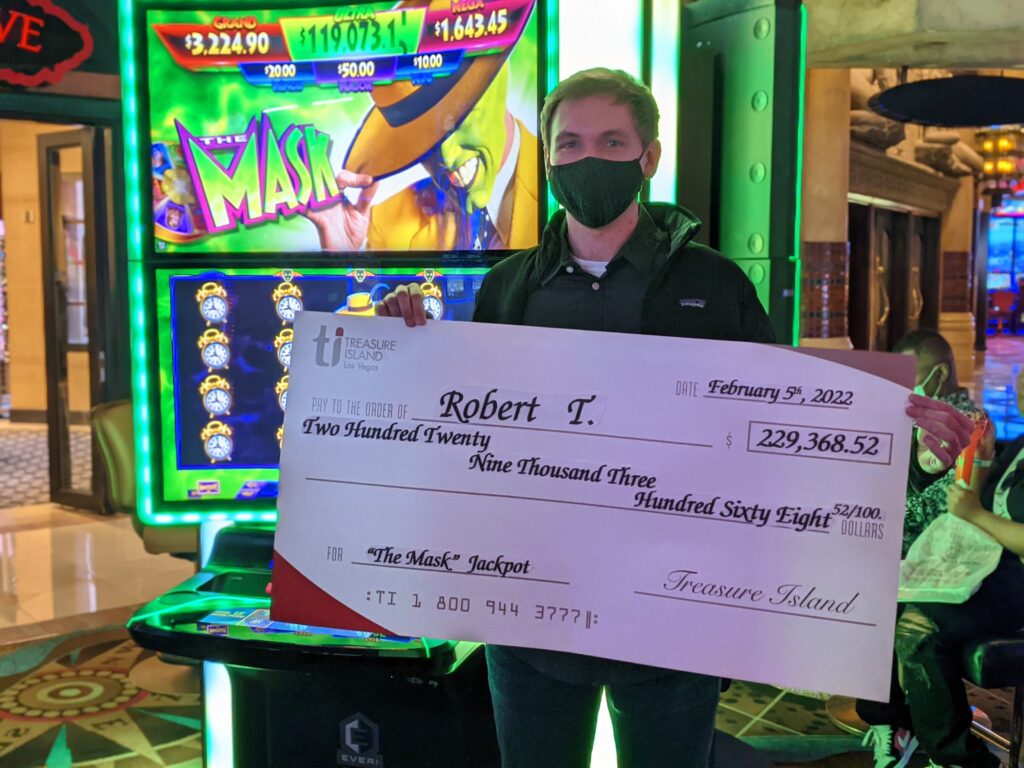 The control board enlisted the help of the Nevada Transportation Authority and a rideshare company to analyze electronic purchase records.
The investigation resulted in successfully identifying the customer as Taylor, who was notified by state gaming agents that he won more than $229,000 some 20 days after earning the jackpot. He returned to Treasure Island on Saturday and collected his winnings.
Treasure Island spokeswoman Jennifer Renzelman said Taylor's hometown was not revealed in order to protect his privacy.
"We are thrilled that our jackpot winner was found by the Nevada Gaming Control Board, and we are happy to have awarded him his winnings on Saturday," Renzelman said in an email.
Control Board Chief of Enforcement James Taylor (no relation to the customer) credited gaming agent Dan Nuqui, who led the investigation, and the Transportation Authority for the agency's insistence in identifying the customer.
"This has been a great example of government working together for the benefit of the public," James Taylor said. He said the agency and its agents ensured "the public trust in the gaming industry remains strong by spending countless hours over two weeks to ensure that a patron is awarded winnings owed to him."
---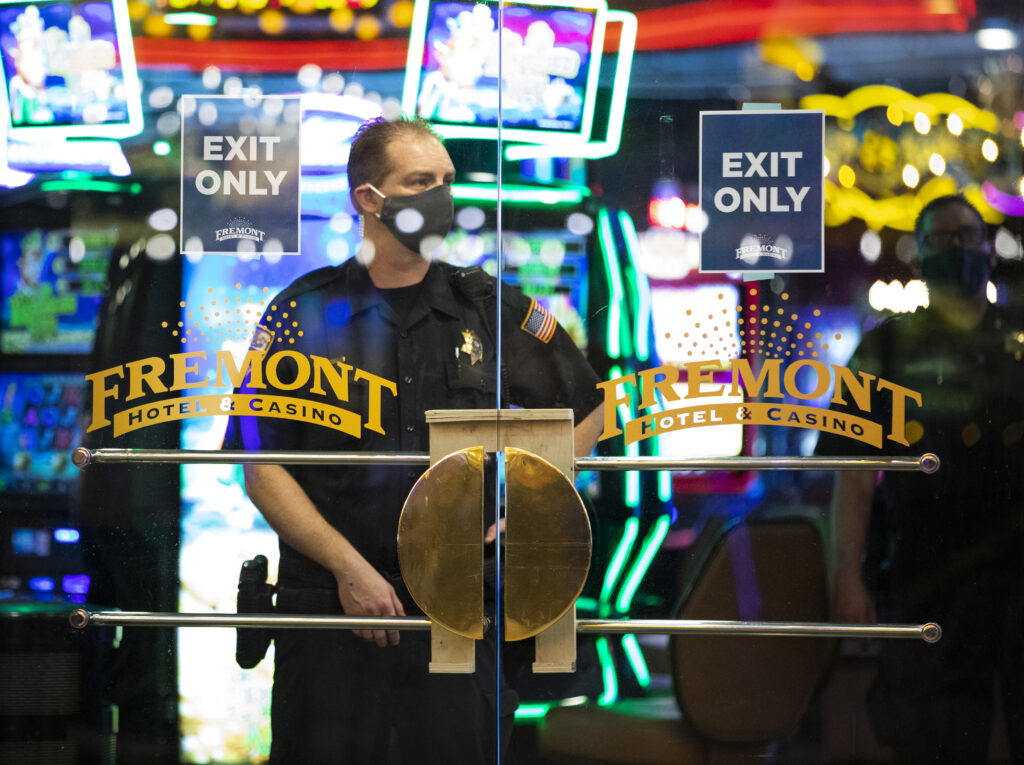 Other items of interest:
Boyd Gaming told investors last week it was spending $50 million to renovate and upgrade its Fremont property in downtown Las Vegas. During the company's quarterly conference call with analysts, CEO Keith Smith said work has already begun in the property.
Smith said the upgrades would include the property's restaurants and an expansion of the casino floor. The renovations will be completed next year.
"Based on the demand we are already seeing at the Fremont today, we expect to see excellent returns from this investment," Smith said. Boyd also operates Main Street Station and California in downtown Las Vegas.
Jefferies gaming analyst David Katz told investors downtown casinos saw an uptick in business toward the end of January as disruptions from the Omicron variant began to wane. "Downtown should be [a] driver for topline growth over near-term," Katz in a research note.
Las Vegas-based gaming equipment provider Everi Holdings is paying at least $23.4 million for eCash Holdings, an Australia-based financial technologies service provider for cash handling and payments processing for the gaming industry in Australia, Asia, Europe and the U.S.
Everi is one of the largest payment processing providers to the U.S. casino industry. CEO Randy Taylor said the acquisition gives the company access to the Australian gaming market and "certain U.S. and other gaming markets we do not currently serve."
Everi is paying $14 million when the deal closes in 60 days for the privately-held company, with the remaining payments coming next year and in 2024. Everi could pay an additional $7 million if certain growth targets are reached.
"We think international expansion – Australia is the second largest gaming market – is a natural growth strategy for Everi as it seeks to move beyond a historically smaller domestic positioning to a leading global player," Truist Securities gaming analyst Barry Jonas told investors in a research note.
Caesars Entertainment said Monday it will transform Lumiere Place in downtown St. Louis to Horseshoe Saint Louis over the next few months. The property is the second casino the company plans to change to the Horseshoe theme and brand following last month's announced name change plans for Bally's Las Vegas.
Caesars, whose predecessor company acquired Horseshoe Gaming in 2004 from downtown Las Vegas gaming pioneer Jack Binion, currently had six Horseshoe casinos in six states. 
In an interview last week, Binion said he was happy to see Caesars expanding the use of the Horseshoe brand, including bringing the name more closely associated with Downtown Las Vegas to the Strip.
Sightline Payments and International Game Technology expanded their cashless gaming partnership with Indigo Sky Casino & Resort in Wyandotte, Oklahoma by launching a mobile loyalty platform. The system on the casino's mobile app is owned by Sightline.
Sightline and IGT teamed up at the casino last year to deploy cashless gaming technology at the property, which is one of the largest casinos in northeastern Oklahoma with more than 1,400 gaming machines, table games, and a bingo hall.
"Guests want to do everything from their mobile device and launching our app will give them this everyday convenience while expanding our abilities to offer more personalized marketing promotions," Indigo Sky General Manager Melanie Heskett said in a statement.
https://thenevadaindependent.com/article/indy-gaming-in-play-wagering-could-influence-nevadas-handle-for-super-bowl-lvi